Low-Voltage Roof Deicing Systems
The low-voltage RoofHeat STEP roof heating system is a popular, advanced roof heating system featuring a thin polymer heating element that is installed under the shingles, tiles or metal roofing. The system's heating element is a flexible, semi-conductive polyethylene heating element that can be nailed or stapled through for easy installation. The self-regulating heating element is polypropylene fused during fabrication to ensure waterproofing and protect it from alkaline, salt damage, UV rays and other potential physical damages.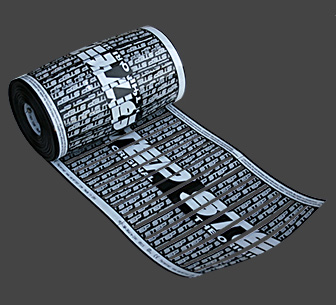 RoofHeat STEP is a highly recommended roof heating solution for heating roof eaves, valleys, and trouble spots. The RoofHeat STEP system does not require a ground fault switch, and can be safely installed under new or existing asphalt, shake, or tile shingles, as well as metal roofing. This roof deicing system is ideal for new construction as well as remodeling projects, and can be customized to accommodate just about any roof type and configuration.
The heating element is available in rolls 9 or 12-inches wide, as well as narrow strips for heating roof gutters. These lightweight heating elements can be cut to size on the job site, facilitating quick and easy installation. Because the RoofHeat STEP heating element can also be nailed or stapled through, it further simplifies installation, making it easier to install than other traditional roof heating systems.
Automated roof heating systems are controlled by automatic sensors that activate the system when necessary. Radiant roof deicing and radiant gutter trace systems have been installed in most cold regions throughout the world and are still the most effective and energy-efficient ways for roof deicing. Installing a quality roof deicing system is a wise investment and can protect and enhance the lifespan of structures and roofs.
A valued roof deicing system is based on its cost, performance and aesthetics. Based on your budget and needs, a reputable radiant heat provider will maximize your investment to the best working system possible. The leading providers will offer you an assortment of roof heating options that not only will fulfill your snow melting needs, but fit within your budget as well. Call a roof heating expert at 888.488.9276 to learn more about the roof heating options available to you and which systems are best suited for your specific needs.