Roof Heating System Design and Engineering
Custom Design Services and Installation Support
When searching for the best roof deicing system for your home or business, be sure to work with a provider that includes professional system design and engineering services. (See sample layout below.) Some suppliers offer discounted prices on their heat cable and other system components, but they do not provide system engineering, technical support, training, or design services. System design and installation support services are vital to the correct installation of your system and ensuring that your warranty remains valid. Proper installation is the single most important aspect of radiant heat systems, and comprehensive design services are an integral part of the installation process.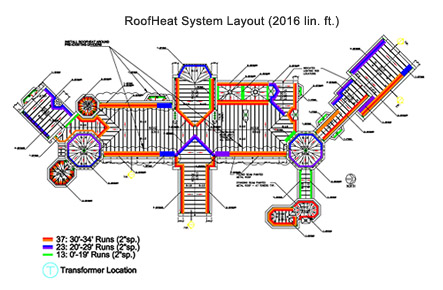 The top radiant heat companies will provide you with a layout of the system and all the technical specs and power requirements – prior to any installation taking place. This simplifies the installation and helps to keep costs at a minimum. To further ensure proper installation of a roof heating system, make sure your supplier freely offers installation support from a qualified electrician and/or radiant heat expert. The best providers may even provide free installation training. Remember: even if you purchase the best system and components, it is of little value unless the system is installed properly. Also, be sure to fill out the product warranty card(s). Follow the installation instructions and test the heating element and various phases during the installation and record the readings on the warranty card. This will protect you if there are any issues down the road. The top providers want you to have a positive experience, so they will emphasize the importance of maintaining a valid warranty. One provider (Warmzone Radiant Heat) not only offers free installation training, but even posts pre-installation checklist videos with information about filling out warranty cards properly in their online resource of installation videos. Use free information resources like these to your advantage!
Trusted, established radiant heat providers have professional designers on staff who can evaluate your radiant heating system needs from top to bottom, recommend the best products for your application and create a detailed CAD of your system layout to assist your electrician and installers. The top system designs include details that not only outline the proper layout and materials, but include the proper load calculations, number of breakers and breaker sizes, system specs, and performance expectations so customers will have all the information needed for a successful installation prior to laying one foot of the heating element.
If you're looking to learn more about the options that are available for your specific needs, call a radiant heat expert for a free consultion (without the heavy sales pitch) at 888.488.9276.